Escape Rooms: the case of Cyprus
While the concept of the escape rooms is quite new, it quickly showed its benefits to players, managers, educators and teachers through various escape room facilities established all around Europe.
The first and biggest entertainment company has opened up to players in Cypriot coastal city of Limassol in 2014 with a purpose of implementing various escape room scenarios in various premises across Limassol. ESCAPE is the first and biggest live escape rooms provider in Cyprus. ESCAPE is a new, intellectually stimulating game of clues and puzzles, hidden messages and secret passages, aiming to provide the absolute adrenaline experience to all the participants. This is accomplished as soon as the players enter the world of mystery and try to solve all the secrets in each specific thematic room. Each room of the ESCAPE has been carefully designed to engage each participant into a unique story and to provide an interactive and exciting experience.
In 2015 "Escape the room" entertainment company was established in Cyprus capital – Nicosia. The company has been offering 3 uniquely themed rooms with an aim to test the player's reasoning and logic. In the recent years a couple of more escape room providers have opened up their break out boxes and room escapes to wider audiences in the Country's capital. Those are "Brain Game Nicosia" &"Way Out Escape Rooms".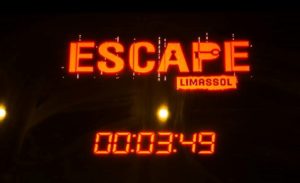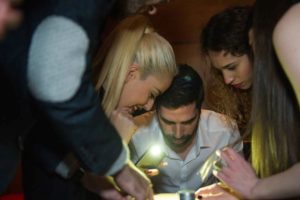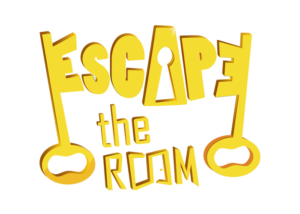 "Brain game" escape game concept was established through the international company that operates in Thessaloniki, Dubai, Copenhagen, Tehran and Nicosia and offers its clients solutions in the form of escape games to be facilitated for team building and/or educational purposes.
In the more recent years a couple of new fresh entertainment companies have opened its doors in Larnaca, Protaras, Paphos and Limassol.
Escape Games Logiccastle is located in Larnaca and it praises on their longest escape room in Cyprus, that takes as much as 2,5 hours for a team of players to solve the mystery.
Another fine example is RoomEscape Protaras, where the players are trapped in a room and have 60 minutes to overcome a series of challenging puzzles to complete the mission and save the world or themselves. The creators claim it to be ideal for friends, tourists, families and business professionals!
Lockdown Paphos was established in 2016 as the first escape game company in Paphos that offers five rooms across two sites. The team in Lockdown Paphos has utilized historical events and archaeological evidence found in the area of Paphos into their own escape game scenarios. "Tomb of Kings" escape room scenario is based on real historical events and provides the players with knowledge of historical events that happened in the area.
Overall, there are more than 20 escape room providers today in Cyprus. However, pretty much all of those provides focus on the entertainment and the development of soft skills in the players. The concepts have been created with the main aim to entertain the player. Yet, when it comes to educational escape room examples, the concept just arrived to Cyprus thanks to ER-SE and other great Erasmus+ projects that are being implemented as we speak. The list of escape rooms in Cyprus keeps growing, and it's our job to direct the concept towards non-formal education development.